1998-99
1999-00
2000-01 Calumet Wolverines
Playoff Champs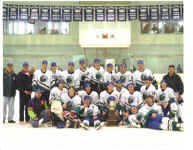 Back Row L-R: Ray Pomroy -GM, Roger Rintala -Coach, Joel Issacson, Nick Rilie, Kurt Maki, Tom Halonen, J. Daavatila, B. Killinen, Andre Durocher, Bruce Coppo, Jr.
Middle Row L-R: Justin Juntilla, Derek Povich, Greg Murphy, Kurt Porter, Mark Pomroy, Joe Goullete, Bill Pelli, Bruce "Cukie" Coppo Sr. -Coach.
Front Row L-R: Mike Bedore, Brian Miller, Brendan Doud, Jake Juntilla, Bob Williams.
2001-02 Calumet Wolverines
National Champs



Back Row L-R: Sakke Karstu, Bill Pelli, Roger Rintala -coach, Jim Kotijarvi, T. DePudyt, Greg Murphy, Joe Goelette, Jesse Rintala, Brad Wickstrom, Scott Swanson, Kris "Bubba" Mihelcick, Andre Durocher, Jeff Percifield -Mgr, Justin Juntilla, Bob Williams, Joel Isaacson, Juha Helttanen
Front Row L-R: Bruce "Cukie" Coppo -coach, Bruce Coppo Jr., Marc Pomroy, Korey Rowe, Kurt Porter, Damon Beiring, Brendan Doud, Daron Durocher, Jason Moilanen
Laying Down L-R: Jake Juntilla.
Ray Pomroy was the General Manager of the team for years, he passed away two weeks before the National Tourney, "we always said we were going to win it for him."
14 MARCH 2002
GIBSON CUP WINNERS!
By Mike Couling: Daily Mining Gazette
CALUMET — The Calumet Wolverines snapped a five-year span without the Gibson Cup, taking home the trophy for the first time since the 1995-96 season with a 7-4 senior hockey decision over the Portage Lake Pioneers at the Calumet Armor here Thursday.
The Gibson Cup is a best-of-three series, with the Wolverines having picked up the first win over the Pioneers in Houghton a few weeks ago. The Cup-clinching win marks another point in a remarkable year for the Wolverines, having already sealed up the Great Lakes Hockey Conference regular season title.
"This is my 15th one as a player or coach," Wolverines skipper Bruce Coppo, Sr said. "There are all just as sweet. Everybody on our team stepped up their game (Thursday). They wanted this very badly."
Leading the Wolverines in the championship win was center Mark Pomroy, who picked up a hat trick and added an assist.
Portage Lake quieted the crowd early in the first period with a score from Kent Holombo as the Calumet cage minder Jason Moilanan went to the back of the net to clear a puck and was out of position to make a save. Holombo was assisted by Randy Stevens.
Calumet knotted the score at 1-1 with a score from Brendan Doud, assisted by Brad Wickstrom and Pomroy.
The Pioneers other score of the first period was by Stevens, assisted by Holombo and Josh Koskela.
Down 2-1 the Calumet team seemed to be surprised by the fiery efforts of the Portage squad. Pomroy tied the game at 2-2 on a powerful slap shot wound from the wrist that sailed into the upper stick side corner of the Pioneer net, past reaching goalie Jeff Markham. Pomroy was assisted on the score by Brendan Doud and Jake Junttila.
The Wolverines followed the score just 27 seconds later with another tally after a massive forecheck that allowed Bill Pelli to find the right side twine high and give the Wolves a 3-2 lead. Pelli was assisted by Kris Mihelcick.
2002-03 Calumet Wolverines
Gibson Cup Champs

Adult U.S. National Champions
Please Contact the webmaster if you have a picture of this team or names of these players!
2003-04
2nd Place in the Northern Div of Great Lakes Hockey League.

Season Results: 9-11 regular season, 1-2 in the Nationals.
need picture and roster!
2004-05
Calumet Wolverines


need names!
Season Results: x-x-x regular season, x-x in the Nationals.
Please contact webmaster if you can id the players on this team!
Photo courtesy of Connie Julien
2004 Nationals punctuate season of contrasts for area teams
By JEFF ARNOLD
Daily Mining Gazette Writer
HOUGHTON — The Calumet Wolverines and Portage Lake Pioneers finished up their respective seasons at nationals in Fond du Lac, Wis., over the weekend.
Neither team was able to advance — the Pioneers went 0-2-1 with a 5-5 tie against Mosinee, and the Wolverines went 1-2, beating Minneapolis 6-4 in the opening game of the tournament.
In regular season play, the Pioneers shared the title in the Northern Division of the Great Lakes Hockey League with a 15-5 mark. The Wolverines finished at 9-11 and in second in the Northern Division behind the Pioneers.
"It was a struggle for us this season," Wolverines' assistant coach Roger Rintala said. "We really had our ups and downs. It was a year of growth for the team."
As in past seasons, each team had to deal with the loss of players from the previous season.
The Wolverines especially had to deal with a high turnover ratio this season.
"We were very young this year," Calumet forward Bruce Coppo Jr. said.
Despite the disappointment at nationals this year, Pioneers' forward Craig Biekkola thought that the team had a good year.
"We tied for first in the league, and we won the Gibson Cup," Biekkola said. "We had a pretty fast team this year. We were skilled offensively, and we had good goaltending this year."
— For a complete version of this story, please see the print edition of The Daily Mining Gazette. 7 April 2004
Back row L-Rt: Roger Rintala -Asst coach, Nick Patrick, Joel Isaacson, Nate Polzein, Bobby Wendall Richards, Bryan Karl, Bruce Coppo Jr., Matt Helmikangas, Bruce Coppo Sr -Coach.
Middle Row L-R: 4 players: Darron Durocher, Darron Erkkila, Josh Treganowan, Andre Durocher.
Kneeling in front L-R: Clever Heikkila -goalie, Mike Babcock (back), Brett Randell, Casey Peterson, Jeremy Maki, Ryan Patrick -goalie.
Missing from photo: Josh Frantti, Phil Torala, Nick Borkowski, Jeff Rosseau, Mike Lowery, John Make.
Season Results: x-x-x regular season,
1W 2L in the Nationals.
Photo courtesy of Connie Julien
2006-07
Calumet Wolverines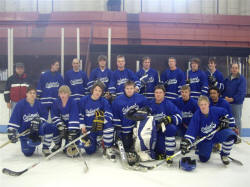 Standing L-R: Bruce Coppo Sr -Coach, #4 Darron Durocher, #13 Ron Knoble, #17 Kyle Jarvi, #18 Nick Patrick, #6 Brian Lasanen, #19 Gust Junttila, #24 Kyle Isaacson, #20 Mike Babcock, Roger Rintala -Asst coach.
Kneeling Front L-R: #2 Jeff Erkkila, #15 Wayne Hyrkas, #16 Corey Rastello, #29 Ryan Patrick (goalie), #3 Jake Junttila, #24 Lorn Randell, #23 Jeremy Maki, #9 Mike Lowery.
Missing from photo:
Andre Durocher who lost his life in a car accident early this season,
also David Carmody, Bruce Coppo-Jr, Darron Erkkila, Josh Frantti, Cleve Heikkila, Bryan Karl, John Maki, Brett Randell, Aaron Sklenar,

Season Results: x-x-x regular season,
xW xL in the Nationals.
Photo courtesy of Connie Julien

2007-08
Calumet Wolverines


Back Row L-Rt: 1, 2, Kyle Isaacson, 4 (way back), 5, 6, 7, 8.
Middle Row L-Rt: Coach Bruce Coppo Sr, 2, 3, 4, Jeff Erkkila, 6, Mike Babcock, Asst Coach Roger Rintala.
Kneeling L-Rt: 1, Ryan Patrick (goalie), 3, 4, 5, 6.
Season Record: xx-xx-xx
Photo courtesy of Connie Julien
Standing L-Rt: Corey Rastello, Joel Isaacson, Eric Daavettilla, Gust Junttila, Jess Rintala, Nick Patrick, John Maki
Coach Roger Rintala (in back), Jesse Patrick, Kyle Isaacson, Mike Babcock, Mark Pomroy, Coach Bruce Coppo, Sr
Kneeling L-R: Darron Durocher, Jeff Erkkila, Jason Miller, Ryan Patrick, Brett Randell, Joe Juntilla, Aric Danis, Logan Rastello, Jake Sergot-Parkse

Not Pictured:
Tim Viola, Evan Salmela, Kurt Porter, Adam Hillstrom, Bob Rangus.
Regular Season Results: 7-17-2
Photo courtesy of Connie Julien
2009-10
Calumet Wolverines
GLHL League Champions!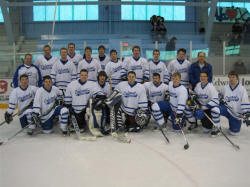 Standing L-Rt:
Kneeling L-Rt:

Season Record: xx-xx-xx
Photo courtesy of Connie Julien
2009-10
from program:

Tiger Marcotte
Dylan Parske
Brett Randell
Evan Salmela
Derek Kitti
Jason Miller
Logan Rastello
Aric Danis
Bob Rangus
Corey Rastello
Eric Daavettilla
Nick Patrick
Gust Junttila
Brian Adams
Jesse Partrick
John Maki
Jessie Rintala
Joe Juntilla
Bruce Coppo, Sr Coach
Roger Rintala Assist Coach
Cleve Hiekkila Assist Coach
2009-10
Back rows L-Rt: Coach Bruce Coppo, 2 ,3, Logan Frantti, 5, 6, 7, 8, 9, 10
Kneeling L-Rt: 1, Jeff Erkkila, Ryan Patrick, 4, 5, 6, 7, Mike Babcock, 9,
Missing from photo: Josh Frantti,
see other players to left