1955-56
Copper Country Bantam
All Stars to Detroit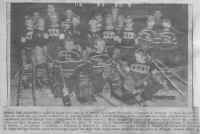 Top Row L-R: R Banfield, Paul Coppo -Coach, W Fournier, R O'Brien, M Coppo, Earl Gorman -Coach & Mgr.
Middle Row L-R: M Gorman, R Mikkola, R Sibilsky, D McCullough, G Wenberg, A Wuorinen. D Banfield, B Riutta, J Townsend.
Kneeling L-R: William Bingham, R Mikesch, Richard Richards.
Absent from Photo A Wiitanen.

Please contact the webmaster if you have a better picture of this team.
1955-56
Copper Country Bantams
Win States and Nationals!



Goalies Bill Bingham & Dick Richards.
Red Wings Autographs
1957-58
Gundlach Bantams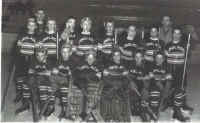 Coach Earl Gorman & Al Brey.
Standing L-R: Gary Houle, Bill Heinonen, Jim Huivonen, Mike Gorman, Gary Brey, -?, Wally Wiitanen, David Monticello.
Seated L-R: George Houle, Stanley Olson, Jim Hebner, Jack Colombe, David Hermanson, J. Butkonen.

Photo courtesy of George Houle.
1958-59
Gundlach Bantams
State & National Champs!

Standing L-R: Alfred Brey -Coach, Allen Stone, Joseph LaBissoniere, David Hermanson, William Heinonen, Roger Smith, John Starika, Fred Zerbst -Mgr.
Seated L-R: Paul Heinonen, Bill Downey, Jim Hebner, Bob Treglowne, Paul Masini, Dave Witting.
Missing from photo: John Baima, Terry Sintkowski.

Photo from the Chassell Smelt Jamboree book
1959-60
Gundlach Bantams
Upper Peninsula Champs!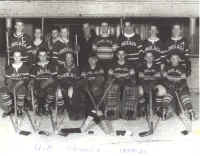 Standing L-R: William Heinonen -Capt, Mike LaBissoniere, Wally Wiitanen -Capt., Clyde Smith, Fred Zerbst -Mgr, Jim Wade, John Starika, David Witting, David Hermanson -Alternate.
Seated L-R: Roger Smith, Allen Stone, Paul Heinonen, James Hebner, Bob Treglowne, Paul Masini, William Downey.
Absent from photo: Coach Alfred Brey
Photo Courtesy of George Houle.