The Duquesne Gardens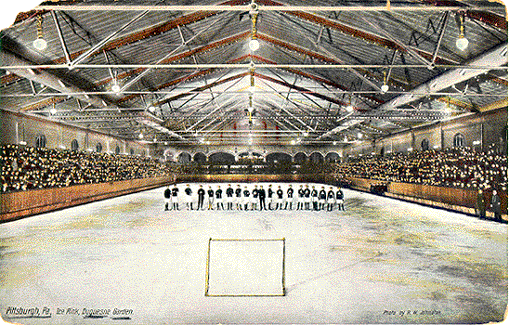 The Duquesne Gardens of Pittsburgh
Constructed in 1890 as a trolley barn, the Gardens were remodeled barely six years later. Following the renovation, it served as a sports arena, an indoor skating rink (considered one of the finest in North America at the time) and a theater. Located at 110 North Craig Street near 5th Avenue in the Oakland section of Pittsburgh, there was much to see and do both at the Gardens and in the surrounding area.
The Duquesne Gardens was home to the Hornets from 1936 until it was torn down in 1956.
Oakland was, and still is, the home to the University of Pittsburgh and Carnegie Mellon University. Only blocks away, baseball's Pittsburgh Pirates played their home games at Forbes Field. The Gardens hosted numerous boxing matches, where rabid boxing fans could see the likes of Kid Hubert, Stan Ketchel, Joe Louis and local hero Billy Conn. It was also home to Pittsburgh's original NHL team, the Pirates.
On June 18th, 1998, the intersection where the Gardens once stood was dedicated as 'Billy Conn Blvd.' The sign stands in front of St. Paul's Cathedral, which shared that corner with the Gardens for its entire history.
Currently, an apartment building stands on the grounds where the Hornets once won championships.
Source: www.hockeyresearch.com/atkinsj/default.htm
---