Webmaster
Copper Country Hockey History
Houghton, Michigan
This web site has been researched and made by Connie Julien
(pictured above in the Houghton Hockey Museum.)
This is a totally volunteer project.
Your comments, suggestions and pictures, for this web site are greatly appreciated!
If you have any photos, or memorabilia that could be photographed, please contact me:
Contact Webmaster: webmaster@cchockeyhistory.org
Here is Connie with Gordie Howe and the bobble head he just signed on a very stormy day in Marquette, Michigan, December 2003. This was not Mr. Hockey's first trip to the UP, Gordie was playing with the Red Wings when they came here in 1954 to play several exhibition games against Marquette teams. Gordie's good friend and long time coach, Jack Adams, started his American hockey career right here in the Copper Country as a player for the local Calumet Miners in the 1915-16 season.

Webmaster Connie and Mr. Hockey Gordie: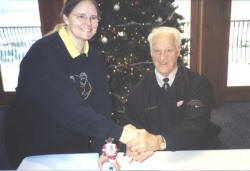 My sons Jon & Jason with the Stanley Cup and Randy McKay August 1995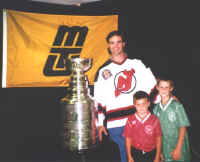 Our older son Jason as a 16 yr old Midget AAA Defense
Game Star Blizzard Tournament March 2003
He has won the Randy McKay Spring Hockey Skills Competition 4 years in a row for
Fastest Skater and Hardest Shot.
And his Most Accurate Shot record of 4 of 5 shots on goal set March 2000 has never been beaten.
Jason, King of Hancock HS Copper Bowl 2004


| | |
| --- | --- |
| | Our younger son Jon, March 2000 Squirt AA Defense |

Here are a few items I have picked up over the years. These, and other items, are displayed in the local hockey museum open year around in the Dee Amphidrome in Houghton. If you have items you would like to donate or loan to the museum for display, contact the Webmaster or the City of Houghton.
Each summer, we fill the Dee Amphidrome rink surface with local historical pictures and objects, including hundreds of hockey pictures.
This pictorial display is free and open to the public 7 days a week from 9 AM to 9 PM from Memorial Day to Labor Day.
This pair of block/stock ice skates from the mid to late 1800's have .7 cm wide medal blades that curve up in a loop to the front of the wooden platform. The blades are attached to a nice wooden platform which holds to a boot with leather straps and metal spikes coming out of wood platform. There is the stamped number 00 below the top two small spikes, and in the middle of the platform the stamped number 11, and more towards the foot of the platform above the single spike, it seems to read:

PATENTS
FEB. 26. 1856
BER. XXXX (can not read these 4 numbers)
REISSUE SB71800
(all the letters/numbers are hard to read and may be different than this)

The printing on this stick says: "Club Applebee, made in England, Trade Mark Spalding, made in GrBritian". Purchased at a local estate sale, it is one piece of wood, with a natural curve at the bottom. It appears to be an old roller or ice polo stick, a sport played with short sticks "almost like walking canes" that was popular in our area in the 1880's and 1890's.


In 1886, there was a local league of roller polo teams made up of Houghton, Calumet, Marquette, Ishpeming, Negaunee, and Escanaba. A rubber ball was used, the sticks were small, and the ball was put in play in the center of the rink then both teams rushed for it. In the 1890's it was still called polo, but was played on ice also. A graphic of the game looks like they are using sticks similar to this one:

These hockey gloves, used locally, have the Brand name "Armadillo Thumb" with a picture of an armadillo on it, and they also say COOPER, Canada, BDJ on them.
The leather on the glove palm says Made in Barbados.
The colors are white and green, which are the colors of the Portage Lake Pioneers. Colored hockey gloves came out in the early 1970's. Hockey gloves first came out in 1904 and their fingers looked like sausages. Later they incorporated hinged parts at the knuckles. Later they added separate pads across the backs as seen in these gloves.

The small straight stick was used locally presumably in the popular sport of indoor baseball at the turn of the century.
Doing research at the Houghton County Museum
Connie & Leo Chaput

Contact Webmaster Connie Julien
Hope you have enjoyed my site!
I try to add more info every day, so check back often!

Web Page designed, researched and maintained by Connie Julien


If you like this site, please consider making a donation to keep it online:

copyright 2009