Rick Yeo, from Thunder Bay, Ontario, played hockey with Michigan Tech 1963-66 when Tech won the NCAA Championship in 1965 and the WCHA Championship in 1965 and in 1966 with Tony Esposito in goal. He was Captain in his Senior year at Tech and was honored with the MVP award as a Senior. In 1970-71, he played in the USHL for the Thunder Bay Twins. He went on to coach High School Hockey in Thunder Bay and returned to Michigan Tech in 1973 to be Assistant Hockey Coach, for Coach John MacInnes, during the time when the Huskies won the WCHA Championship in 1974 and 1976 and the NCAA Championship in 1975. Rick moved on as Head Hockey Coach at Lake Superior State 1976-81 and assistant Athletic Director. He then returned to Michigan Tech, and from1990-2005 he served as Tech's Athletic Director. He has served on WCHA and NCAA committees and was inducted into the Michigan Tech Sports Hall of Fame in 1988.
NCAA Champions
Michigan Tech University 1964-65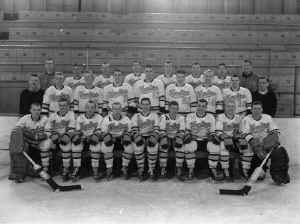 Seated L-Rt: Rick Best, Bruce Riutta, Terry Ryan, Pete Leiman, Al Holm, Rick Yeo, Dennis Huculak, Fred Dart, Tony Esposito.
Middle Row: Assistant Coach Bill Lucier, Gary Milroy, Bob Wilson, Bob Toothill, Bob Brooks, Tom Steele, Roy Heino, Wayne Weller, Head Coach John MacInnes.
Back Row: Trainer Brad Taylor, Dave Confrey, Colin Patterson, Mike Gorman, Joe Galetto, Ed Caterer, Steve Yoshino, Manager W. Reid.